We are proud to announce that Defensive Drivers Group Traffic School reviews surpassed 151 customer reviews. And that number keeps increasing as our satisfied traffic school customers leave 5-star reviews.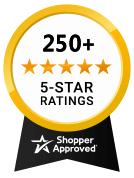 120 5-Star Traffic School Reviews
Of the 151 reviews, 120 were 5-star reviews, which represents 79% of the total. Check out our review page here.
Sign Up for Traffic School
And, if you get a traffic violation in California, Delaware, Michigan, New Jersey, Tennessee, Texas or Wyoming then be sure to sign up at https://www.defensivedriversgroup.com/.